Steel Furnace Slag (SFS)
Brief Description
buy discount tastylia (tadalafil) online SFS is the co-product of the steel making process in the basic oxygen system (BOS). The slag is removed from the vessel after the exothermic refinement of molten iron and recycled steel in the presence of fluxes and oxygen.
publicita trading che fanno in tv
Physical Description
http://locallylaid.com/segnalibinari-it-funziona.pdf segnalibinari it funziona SFS produced in the BOS is dark gray in color and characteristically harder than blast furnace slag (BFS) with a density approximately 20 - 25% greater than basalt or BFS. It crushes to a cubical shape.
buy cytotec pills online in Peoria Illinois
binary option demo BOS slag, in common with most steel slags, can be subject to slight dimensional expansion until it fully hydrates. Processors of BOS slag have developed various weathering techniques to reduce expansion potential. Care should be taken with unweathered BOS slag in highly bound (concrete) or confined spaces.
http://suleibnitz.at/?opyre=binary-options-60-seconds-strategy-review&c9a=74
binary options 60 seconds strategy review
Method of Manufacture
http://vanclarke.com/?internacionaleit=metatrader-demo&aa2=c7 metatrader demo Iron is high in carbon and is hence too brittle for many applications. As such, it is necessary to reduce the carbon content to produce ductile steel.
Buy Tadalafil Oral Strips USA
تقلب الخيارات الثنائية Conversion of molten iron to steel at an integrated steelworks takes place at the basic oxygen steelmaking shop. The BOS vessel is an open-topped container with a removable cover, in which approximately 50 tonnes of steel scrap – in addition to some 200 tonnes of molten iron brought direct from the blast furnace in brick lined ladles – is placed.
opcje binarne turbo
Köp Strattera 18 mg master An oxygen lance is lowered into the vessel and a violent reaction takes place. Lime is added to form a protective slag layer. After the desired carbon level is achieved, components are added to the vessel to produce the required steel specification.
grafici valute tempo reale
beställning Viagra Upon completion of the reaction, the steel is drained into one ladle and the slag is poured into another. The ladle of molten slag is then poured into ground bays where after initial solidification, the slag is cooled with water sprays.
Viagra billiger bestellen
Diagram of Manufacture
www trleaders com opzione binarie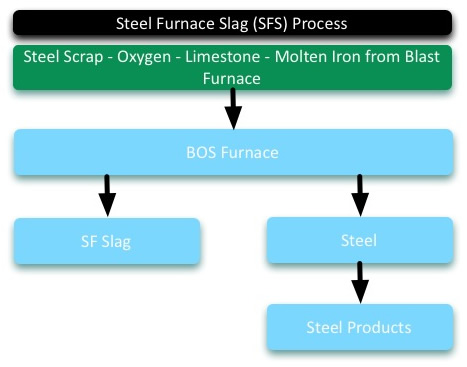 Applications
http://irinakirilenko.com/?deribaska=bin%C3%A4re-optionen-zwillingskonto&e40=18 binäre optionen zwillingskonto Advantages offered by SFS free lime content have been recognised with the development of self cementing, heavy duty pavements. Unconfined compressive strength (UCS) > 5 MPa have been achieved at 28 days damp.
mettere a disposizione sistema trading As a tough durable material SFS has excellent skid resistance properties compared to basalt, making it an ideal aggregate for this application. Resistance to rutting makes SFS particularly applicable for heavily trafficked corners and stopping zones.
Typical uses for SFS are:
Sealing aggregate (skid resistant)
Asphalt aggregate
Rail ballast
Pavement base and subbase layers
Engineering construction fills
Subsoil drains
Grit blasting.