The Art of slag - Jamie North Rock Melt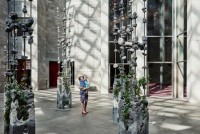 This exhibition of six large sculptural columns by Sydney-based artist Jamie North features plant life growing from concrete pylons in an apparent state of erosion. Each column, ascending from a solid base to a condition of lesser materiality, will be slowly overrun by creeping vines (Pandorea pandorana) that reflect the artist's lifelong engagement with the observance and cultivation of plants. The exhibition is being held at NGV International bewteen 25 March to 12 July 2015. Open 10am–5pm, closed Tuesday. Free entry
James was featured in one of our previous edition of 'Connections' in the November 2013 for his work with slag.
The project takes its name from the Karl Marx quote, 'All that is solid melts into air', which is also a key conceptual inspiration for the work. Inspired by native flora growing randomly from mortar cracks in buildings and the aesthetics of mineral extraction and industrial waste, Rock melt, 2015, explores the relationship between nature and architecture, decay and regeneration and the traditions of cultivated gardens. Jamie North: Rock Melt is presented as part of the NGV's ongoing series of Federation Court commissions.
Visit the NGV International website to read more.