Scholarship To Provide Stability for Aspiring Students
Dr George Wang- a dedicated educator and scholar who has contributed to slag research in Australia, received a scholarship in 1989 to study his doctorate at the University of Wollongong (UOW) and is now returning the favour to the next generation of students who wish to study civil engineering by establishing an ongoing scholarship.
Growing up in Tianjin, China during difficult economic times, life wasn't always easy for UOW alumni Dr Wang. At the age of 17, he left his hometown for inner Mongolia to live in a rural environment and learn farm and construction work. Regardless of his various early life challenges, Dr Wang's love of learning has been a constant variable throughout his life, and his passion for civil engineering grew out of this first job in the construction industry.
After he finished his undergraduate and graduate degrees at Tongji University in Shanghai, Dr Wang returned home to teach civil engineering and share his love of learning with other students. It was during this time that Dr Wang came across UOW academic, Dr Denis Montgomery's publications on the topic of slag research. He wrote a letter to Dr Montgomery asking to join UOW's graduate study program, which he was accepted into with the support of an industry scholarship, sponsored by BHP and ASMS with Dr Montgomery as his supervisor.
So in early 1989, with just over $200 in his pocket and inspired by the University being close to the steelworks, Dr Wang moved to Australia to complete his PhD in civil engineering at UOW to begin working alongside Dr Montgomery. After stretching his time amongst university study and working at a restaurant on weekends for a few months, Dr Wang was lucky enough to be the first recipient of several local industry-sponsored scholarships established by Dr Montgomery for his students. These scholarships allowed for Dr Wang to complete his study with financial pressures taken care of.
"I want to thank him [Dr Montgomery] for making this opportunity possible for me all those years ago" Wang said.
Following the completion of his PHD, Dr Wang kept in contact with staff at UOW and with the Australasian (iron & steel) Slag Association in efforts to keep up with slag research in Australia. In addition to this, he also established a scholarship in his family name for students interested in this area of study, knowing just how difficult it can be to receive an education.
The scholarship known as 'The Wang Family Scholarship in Civil Engineering' is valued at $10,000 P/A and will support a student (domestic or international) who has declared a major of Civil Engineering, in their second year (or above) of a Bachelor of Engineering degree in hopes to encourage and support aspiring students.
"I feel it is the time for me to and I should give back to my alma mater, UOW and the department, which made the critical turning point in my life in many ways. I love the place where I spent one of my most important life journeys here [UOW]," Dr Wang told UOW.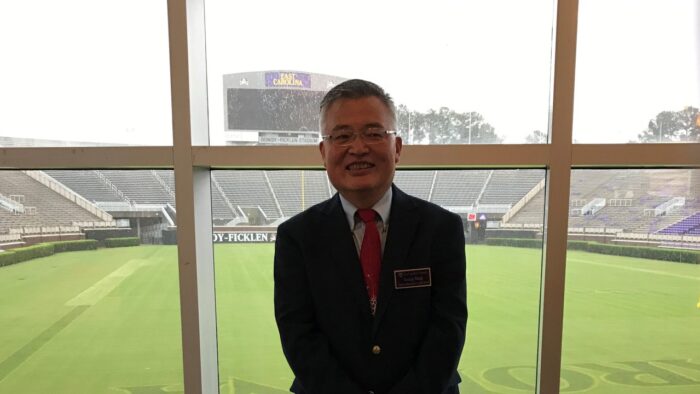 - Dr Wang at an event in East Carolina.