MCi Wins $14.6M Grant From Commonwealth
In late 2020, the Australasian (iron & steel) Slag Association participated in a small- scale project initialised by the Mineral Carbonation International (MCi). This project determined the potential of reducing CO2 emissions in various materials, including concrete and cement. Since then, ASA has maintained a close relationship with MCi and has supported them in various ventures.
On the 8th of June 2021, it was announced by The Minister for Energy and Emissions Reduction, Angus Taylor that MCi would receive substantial funding towards a new project of a similar nature to the endeavour ASA was previously involved in. This comes after the Australian Government awarded $50 million to the Carbon Capture, Use and Storage (CCUS) Development Fund in efforts to reduce CO2 emissions in Australia. Only a total of 6 companies were awarded a share in this development, and Australian Cleantech developer MCI was one of the few. Awarded with one of the largest individual grants, MCi's $14.6 million grant for the project 'Australian CCU Flagship: Demonstrating decarbonisation for heavy industry' will accelerate MCi's technology that transforms CO2 emissions into valuable advanced manufacturing and consumer products.
The Grant will be used to build the 'MCi Carbon Plant,' a world-first mineral carbonation mobile demonstration plant in Newcastle, Australia. The MCi Carbon Plant will be established on Orica's Kooragang Island and will have direct access to approximately 250,000 tonnes of captured CO2 from Orica's manufacturing operations. It is expected to be completed in two years, with the scale of the plant to be determined once the final pilot studies and engineering designs are finalised by the conclusion of 2021.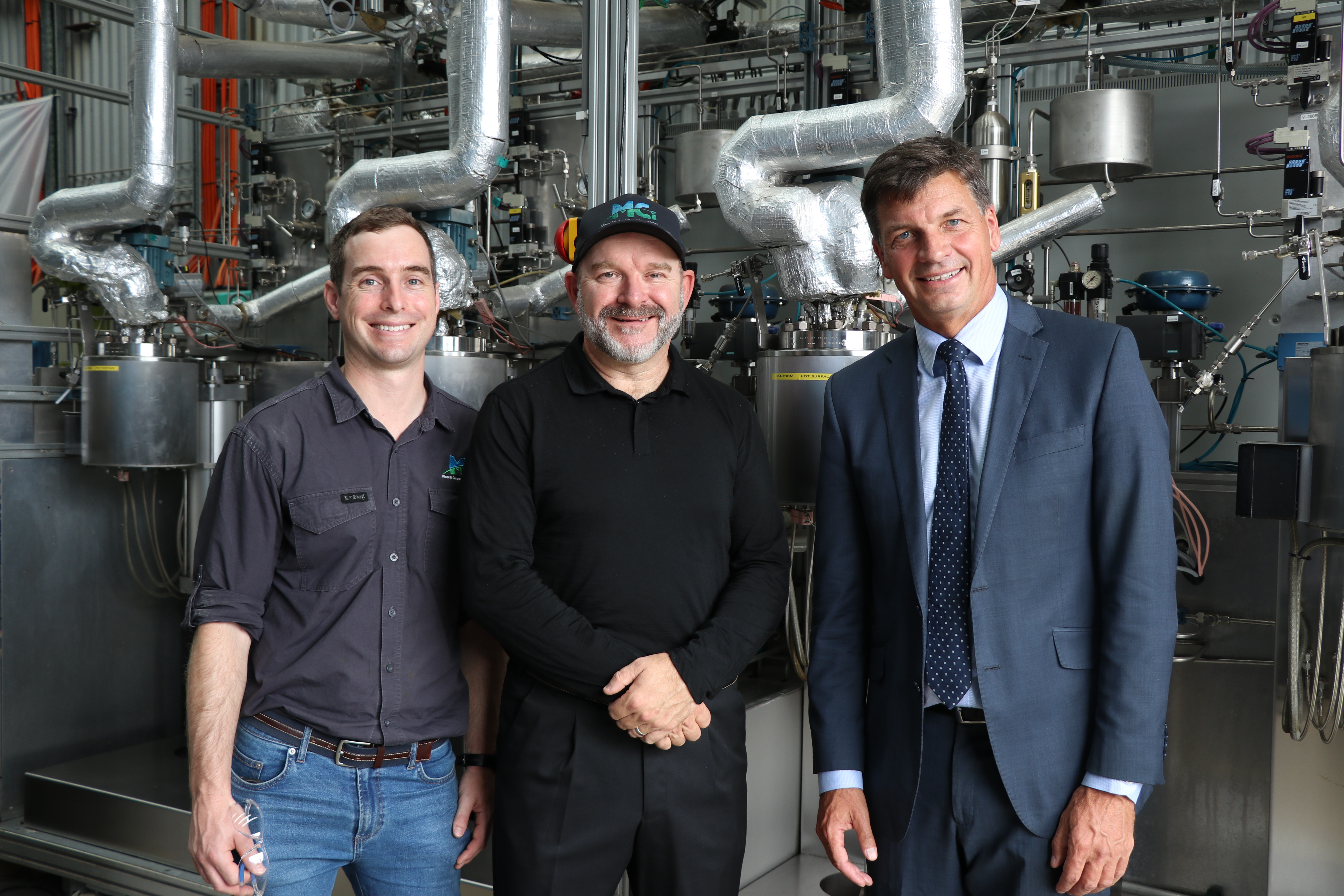 - MCi Chief Technology Officer Mark Rayson, MCi CEO Marcus Dawe and Minister for Energy and Emissions Reduction, Angus Taylor at MCi's Pilot Plant in Newcastle.
MCi's Chief Executive Officer, Marcus Dawe says that the grant will assist in "transitioning the hard-to-abate industries to net-zero," stating that "The steel, cement, aluminium, mining and chemical industries need technologies that help with the transition". Mr Dawe also suggests that this is a "key focus not only in Australia but also in the worldwide race to zero emissions," and this grant places Australia in the running for success.
MCi uses engineering and specialised technology to capture CO2 and transform it into solid materials known as 'Carbonates'. The carbonates can then be used to manufacture a range of building and construction products such as building materials, chemicals, cement, concretes, and other consumer products. Repurposing CO2 emissions and industrial waste into valuable resources subsequently supports the circular economy to enable a reduction in waste materials and a reduction in overall emissions.
In the future, the support for the circular economy should only increase, with Mr Dawe stating, "MCi Carbon Plants will create high-quality permanent carbon credits, create a financial return for funders and lower the carbon footprint from the products that use the carbonates replacing existing high carbon-intensity materials like cement, limestone, gypsum and many other mined and processed bulk materials," he said.
Projects such as this are vital as time moves on. Mr dawe sates that "In the near future, there will be vast volumes of captured carbon dioxide that need to be used or stored. There are many technologies that are being developed and scaled to meet this US$6 trillion global emerging carbon product market and all will need to be assessed if we are to meet Paris Agreement targets. The awarding of six projects under the $50M CCUS Grant is a great signal that Australia can play a leading role in the emerging carbon capture utilisation field" he said.
ASA wishes MCi the best in their future endeavours and is glad to be in association with them as they continue to support the circular economy and discover new and innovative ways to do so.