Holcim's New Project That Aims To Make A Difference
The circular economy or an ideology focussed around a zero-waste future has been a topic of discussion for an extended amount of time. Many businesses and industry groups have pledged their allegiance to this cause, revolutionising the way we see waste, and discovering new ways to reuse, reuse and recycle.
The Circular Explorer Catamaran project, developed by One Earth One Ocean and made possible by Holcim promotes the circular economy in ocean conservation. It aims to further research and action towards ocean conservation efforts whilst using new, environmentally friendly technology to clean coastal areas from plastic waste.
Putting the circular economy principles into action, the 100% solar-powered catamaran can retrieve up to 4 tonnes of plastic waste daily. After retrieval, the catamaran recycles the plastic into new applications, from products to alternative energy. Holcim states in the media release that "[in order ] To enable broad-based action, it runs an education program targeting students as changemakers and serves as a science laboratory to advance marine research in partnership with leading marine institutes," going beyond the expectation.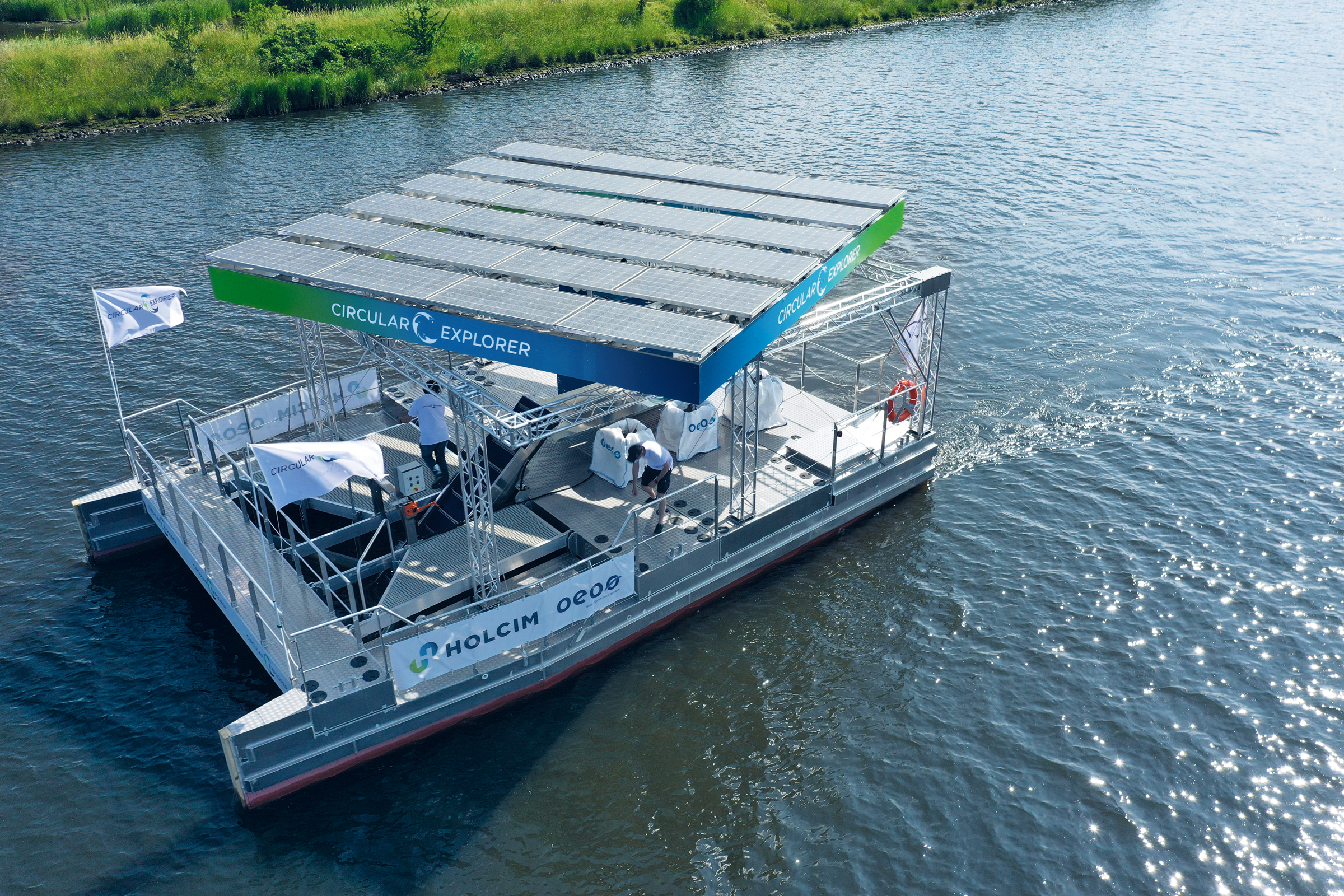 - The Circular Explorer. Credit: Holcim
The catamaran begins its journey in Germany, spending around three months in the baltic sea, focussing on driving its education and science programs whilst participating in events such as Climate Week. In 2022, it plans to relocate to Manila Bay in the Philippines to begin the plastic recovery and recycling process, while advancing its education and science programs and engaging with local communities along the way.
As it launches the Circular Explorer, Holcim becomes a partner of the Solar Impulse Foundation to contribute to its mission of driving clean technologies that are good for the planet and commercially sustainable.
Jan Jenisch, the CEO of Holcim said, "Everyone has a role to play to preserve our ocean. We are proud supporters of the Circular Explorer to be part of the solution. I am inspired to see how young changemakers can act as catalysts to solve some of our world's greatest challenges. The Circular Explorer's education and science programs are designed to mobilise them to take action." Holcim is launching the Circular Explorer as a symbol of its commitment to driving the circular economy and preserving nature.
To learn more about the new project, click here
To learn more about the circular economy, click here