Boral's Plans For The Future
Boral has some big changes coming in the 2022 financial year. From expanding its low-carbon concrete range to new grants and projects, Boral will have its 'plate full'.
Last week, Boral released its Sustainability Report 2021 outlining the business' renewed path to reaching net-zero emissions by 2050 and detailing its progress in the last year.
One of the highlights of the new report was that the company will be investigating re-carbonation technology [1] at its Berrima Cement Plant in New South Wales. This comes after Boral was awarded "up to $2.4 million as part of the Australian Government's Carbon Capture, Use and Storage Development Fund towards a pilot-scale carbon capture and storage project for re-carbonation technology known as mineral carbonation," (Boral, 2021) that was stated in the report.
Boral also stated in the report that the pilot project will develop a carbon storage technology where the carbon captured from the Berrima Cement plant will be stored permanently in recycled concrete, masonry and steel slag aggregates. As a result of this, recycled aggregates will replace the natural aggregates used in concrete products. In doing this, Boral will be supporing a more circular economy through using less virgin material.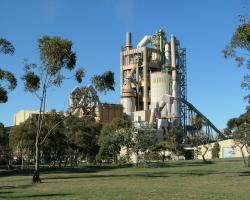 - Boral's Berrima Cement Plant in New South Wales. Credit: Boral.
Additionally, Boral stated its commitment to developing its lower carbon concrete range and recycling business that includes a new range of low-carbon concrete. Boral CEO and Managing Director, Mr Zlatko Todorcevski, stated that, "In FY2021, Boral expanded its lower carbon concrete offering to include Envirocrete Plus to help drive adoption and use of its lower carbon concrete. It is also increasing its contribution to a more circular economy by growing its recycling business, which processed more than two million tonnes of construction and demolition materials during the year," Mr Todorcevski said.
A key focus for Boral's decarbonisation pathway is to reduce cementitious intensity through their lower carbon concrete (LCC) strategy. "By shifting our conventional concrete mixes to our Envisia, Envirocrete and Envirocrete Plus range of LCC products, we will reduce our use of cement in the production of concrete," (Boral 2021). These LCC products replace cement with supplementary cementitious materials (such as ground-granulated blast furnace slag and fly ash) and use proprietary binder technology to deliver lower embodied carbon concrete while maintaining and/or improving engineering outcomes (Boral 2021). Boral believes the development of this range is crucial to the adoption and use of environmentally beneficial building materials.
Looking further into the future, Boral says they plan to continue their partnership with the University of Technology Sydney, to improve and accelerate research into new binders and developing the next generation of Envisia concrete. The lower carbon concrete range currently incorporates 40%-55% SCMs such as ground-granulated blast-furnace slag and fly ash, replacing cement but Boral has plans to improve this even further. "We want to push lower carbon boundaries even further while maintaining the practical properties of regular concrete," Mr Todorcevski said.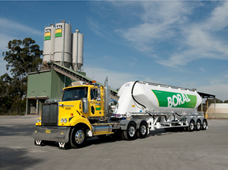 Credit: Boral
Being a larger and more public leader in sustainability for an ever-changing industry is a big task, but Mr Todorcevski has no plans to back down. "In my first year as Boral's CEO and Managing Director, we have reshaped Boral to be a stronger and more sustainable business, focussed on our core Australian construction materials business... [and] we believe that being a leader in sustainability is the right thing to do and is central to our future success. Building on our strong foundation, we've set a bold ambition that is embedded within our business strategy," Mr Todorcevski said.
To find out more, click here.
To read the 2021 full PDF report, click here.
[1] Re-carbonation, an emerging technology, is recognised by the Intergovernmental Panel on Climate Change (IPCC) and is the process where materials (such as recycled concrete) are processed with CO2 to accelerate re-carbonation and permanently store the CO2 in a mineralised form known as mineralised carbon products.