InfraBuild And The Development of Sydney Metro
Amongst the hustle and bustle of pre-COVID Sydney, a new project to update the Sydney Metro network began. Beginning in 2019, Sydney Metro became known as 'Australia's biggest public transport project [that is] revolutionising the way Australia's biggest city travels'. By 2024, Sydney will have 31 metro railway stations and a 66 km standalone metro railway system thanks to this development.
In efforts to keep 'on track' with the tight construction schedule, ASA member InfraBuild was approached to assist with meeting project demands through innovative reinforcing.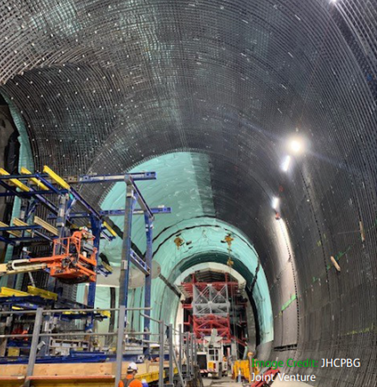 - Martin place station site. Image credit: InfraBuild and JHCPBG joint venture
How InfraBuild Contributed
InfraBuild delivered over 48,000 tonnes of reinforcing steel across 7 sites to Sydney Metro City & Southwest stations
InfraBuild's 3D Modelling was essential for delivering the Martin Place, Victoria Cross, and Barangaroo stations with accuracy and assurance of constructability.
Additionally, InfraBuild supplied up to 1700 tonnes of prefabrication cages that allowed uninterrupted access to the tunnel's main traffic area for associated trades, which in turn allowed more than 50 tradespeople to have uninterrupted access and continuity of on-site works. Additionally, the cages incorporated structural support through load-bearing internal girders fabricated from reinforcing bars that enabled simple attachment to surrounding cages.
Eliminated material wastage by replacing traditional lapped joints (that would've required a great deal more material- up to 1800 tonnes approx.) with Couplers as the best solution to address bar congestion and eliminate potential material wastage from lapping.
As outlined in the project report, the primary contractor (JHCPBG joint venture) was able to hand over Victoria Cross Stations ahead of schedule. In total, InfraBuild saved up to 30 + days on the demanding construction schedules across 3 sites.
Through their new technological approach to this project and its many sites, InfraBuild successfully reinforced how sustainable steel can make a difference in developing projects for the future.
To read more on the project click here.