How The $5.1 Billion Snowy Hydro 2.0 Project Is Using Slag
The 5.1 billion dollar Snowy 2.0 project is one of the largest renewable energy projects in Australia that supports the transition to a low-carbon future.
Located in the beautiful Snowy region of NSW, the project aims to link two existing dams, Tantangara and Talbingo, through approximately 27km of tunnels and a new underground power station.
Once linked, water will be pumped to the upper dam when there is a surplus of renewable energy production and the energy demand is low. The water will then be released back to the lower dam to generate energy when electricity demand is high. In doing this, the 2.0 project will offer flexible, and readily available power. This process also allows for the 'recycling' of water in a loop to maximise the efficiency of renewables, "by using excess solar and wind energy to pump water to the higher dam, to be stored for later use" (Snowy Hydro 2.0 2021).
Recent updates
On October 18th, Snowy Hydro launched their precast factory in nearby-town, Cooma. In this factory, about 130,000 concrete segments are being produced to line the lengthy tunnels, connecting the two dams. To keep up with the demanding nature of this task, approximately 220 locals have been employed to work within the factory.
Not only does this make for local job opportunities, but also a larger opportunity for the use of local materials and by-product in these concrete segments.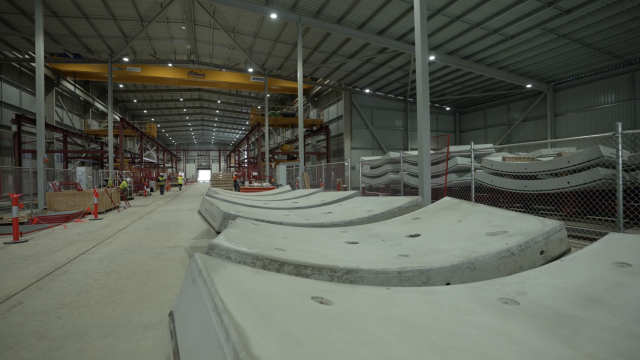 - Picture of the precast factory in Cooma, NSW.
Raw, local materials are said to be mixed into the concrete mixture within the batching plant that is then transferred to the precast factory. Here, the special concrete mixture is poured into specialised moulds every 10 minutes, making it possible to produce and install 72 concrete segments (8 rings) a day on average.
Snowy Hydro has also said that up to 70,000 tonnes of slag will be used to produce the segments. With the use of slag, the amount of cement required for the project is reduced by up to 40%. Using slag for the segments is a notable recycling initiative by the Snowy Hydro team to affirm their commitment to supporting the transition to a low-carbon future.
Moving forward into the future
The segments provided by the new factory will be supplied to the three Snowy 2.0 tunnel boring machines (TBM) as "they excavate and line more than 27 kilometres of tunnels between Tantangara and Talbingo reservoirs" (Snowy Hydro 2.0 2021).
Snowy Hydro reports that The Lady Eileen Hudson TBM is well underway excavating the main access tunnel (currently more than 600 metres in), and the second machine, TBM Kirsten, is being assembled ready for commissioning and launch.
To read more on the project, visit https://www.snowyhydro.com.au/snowy-20/about/