The Circular Lifecycle Of Slag In The UK
Sheffield, England, has a long history of steelmaking and is known for it around the world. Over the years, as a product of this steelmaking, slag began to pile up quite quickly. With a surplus of the by-product, an opportunity for steel-related businesses to thrive in this area presented itself.
SteelPhalt is a Harsco company that has been recycling and using the slag since 1963. SteelPhalt uses the product to produce asphalt at its plant, roughly 11 km northeast of Sheffield in Rotherham.
SteelPhalt has said they have, since the beginning, coated over 15 million tonnes of both carbon and stainless steel slag into high-quality asphalt surfacing materials and manufactured both EAF, BOS and also stainless steel slag into their asphalt mix. "From the beginning, our main purpose was to use the slag aggregate from the surrounding steel mills for asphalt projects in a 150-kilometre radius from our Rotherham plant," said Julian Smith, SteelPhalt's global strategic growth director. "That's what we've been doing ever since," he said.
Demand began to increase rapidly in 2019 as demand for more environmentally conscious products grew, and the value of slag as a recycled material developed. "Being net-zero is high on the UK government's agenda," Mr Smith said. "Our products align with that goal because we are able to create a conventional product at a lower carbon footprint," he said. This, of course, occurs by using the by-product and using reduced amounts of virgin material in products like asphalt mixtures.
SteelPhalt estimates that its carbon footprint has reduced 40% since implementing steel slag in place of natural aggregates in the asphalt the company produces. SteelPhalt's clients are also impressed with the product, finding they can save money whilst obtaining a product that doesn't compromise on quality, durability or on the environment. With word spreading fast amongst clients, SteelPhalt has invested in an additional two asphalt plants since 2020.
Already, SteelPhalt's existing Rotherham plant is the busiest independent asphalt plant in the UK. In July 2021, a second plant was opened on the same site that is capable of producing 500,000 tonnes of the SteelPhalt product per year. In 2022, projections predict 700,000 tonnes may be produced as a combined effort between the two plants.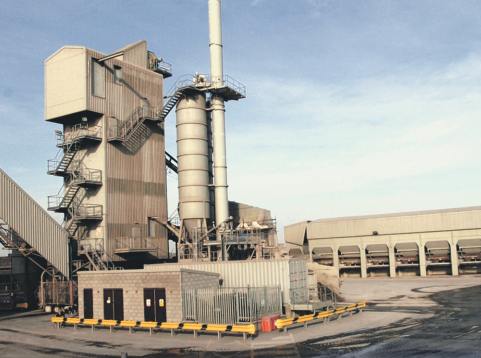 - SteelPhalt,Sheffield Road, Rotherham's crushing plant Credit: SteelPhalt
Over in Wales, another plant was opened in Cardiff, in the June of 2020, exposing SteelPhalt to a new market. This plant was named the first permanent asphalt plant in Cardiff in over 70 years. The reason for this is the region's many quarries and the oversaturation of other asphalt companies. Demand for SteelPhalt was low- until now.
SteelPhalt additionally partnered with Cardiff-based company, Celsa Steel to match production with demand. This mutually beneficial partnership says that together, "We were able to offer a solution that maximizes the value of this undervalued resource," whilst ensuring the slag was being recycled.
All slag provided by Celsa is produced on-site by Celsa Steel; the steel slag used at the Rotherham plants arrives from several steel mills located within 2 kilometres. Being involved in the whole process of gathering the slag allows for the best quality product and sets SteelPhalt apart from other companies.
SteelPhalt and Celsa's plant in Cardiff in 2022, predominately uses the most slag compared with the other plants, due to higher demand in that market area. Being a part of the Harsco family, the company can also get slag from steelworks elsewhere in the country if production at local plants falls below the volume of material it needs.
The Circular Economy At The Forefront
The temperature range to produce asphalt in the UK ranges from 160 to 190 C. SteelPhalt uses LowTherm 4G from SIMA Asphalt to produce at a lower temperature while achieving the same workability characteristics."Our very first tonne at Cardiff was produced at a reduced temperature 20 C below traditional asphalt," Mr Smith said, "... and every single tonne produced since has been produced at that lower temperature."
Recycled plastics have also become part of the manufacturing process. They use recycled plastics to replace a small percentage of the binder at both locations. "By utilising the properties of the selected plastics, that's another way we can conserve natural resources in a way that is of higher value than, say, biomass usage," Mr Smith said.
All three plants additionally use recycled asphalt products (RAP) in base and binder courses. "There aren't specific limits to RAP usage as long as you can demonstrate performance, but generally we are limited to 20 per cent at Cardiff and 30 per cent at Rotherham," Mr Smith said.
Having their business structure base itself off this overall beneficial use of by-products, the future looks bright for SteelPhalt and its fellow partners.
To learn more about SteelPhalt, click here