SmartCrete CRC 'Up For The Challenge'- How It's Decarbonising The Cement And Concrete Sector
SmartCrete CRC 'Up For The Challenge'- How It's Decarbonising The Cement And Concrete Sector
Since the year 2000, the Australian cement and concrete industry has delivered a 25% reduction in emissions. As highlighted at the COP26 Conference in Glasgow, there is a significant opportunity to achieve net-zero carbon concrete by 2050. As an industry-led cooperative research centre, SmartCrete CRC has the objective to provide real outcomes for industry and build a sustainable network for research and development as well as economic, environmental, and social benefits to the Australian concrete landscape.
As we know, concrete is the most widely used man-made material and second only to water as the most-consumed resource on the planet. While cement - the key ingredient in concrete - has shaped much of our built environment, it also has a massive carbon footprint, 8% of the world's total carbon dioxide (CO2) emissions, to be exact. With this fact, SmartCrete is determined to do something about it- for the planet and future generations.
A new independent report titled 'Decarbonisation Pathways for the Australian Cement and Concrete Sector' was commissioned by VDZ to identify the critical pathways that need to be utilised across the sector to lower CO2 emissions and decarbonise by 2050. SmartCrete CRC says they are "proud to have been a major contributor of this report that was launched on the 19th October 2021 and strongly believe that this document charts a practical way forward to achieving these goals," they said.
The report identifies decarbonisation pathways with actions that are essential to successfully implement this plan. The distinguished projects with a total cash value of $6.2m have been approved and are already making a difference. "This is an exciting time for SmartCrete CRC and we are delighted that the concrete industry has taken steps to collaborate with us to ensure the long-term viability of concrete infrastructure in Australia," said Stephen Harmer, Acting CEO of SmartCrete CRC.
In addressing its vision to ensure the long-term viability of vital concrete infrastructure, SmartCrete CRC says it will "continue to facilitate the creation of networks between the concrete industry and research providers to address the research requirements that have been identified. SmartCrete CRC is ready to consider relevant projects that support key innovation areas. In addition, the organisation has funding available to realise these projects," they said in a recent press release.
The Australian cement and concrete sector comprehends the long term economic and societal benefits of harnessing the eight identified decarbonisation pathways and key future research requirements identified in the report. SmartCrete CRC will focus on five areas that are highlighted below now that funding has been approved and received:
• Zero-emission electricity and transport
• Innovation through design and construction
• Further innovation in concrete
• Increased use of supplementary cementitious materials in concrete
• New co2 efficient types of cement
• Alternative fuels and green hydrogen
• Accounting for concrete to uptake co2 (Recarbonation)
• Capture remaining co2 (CCUS)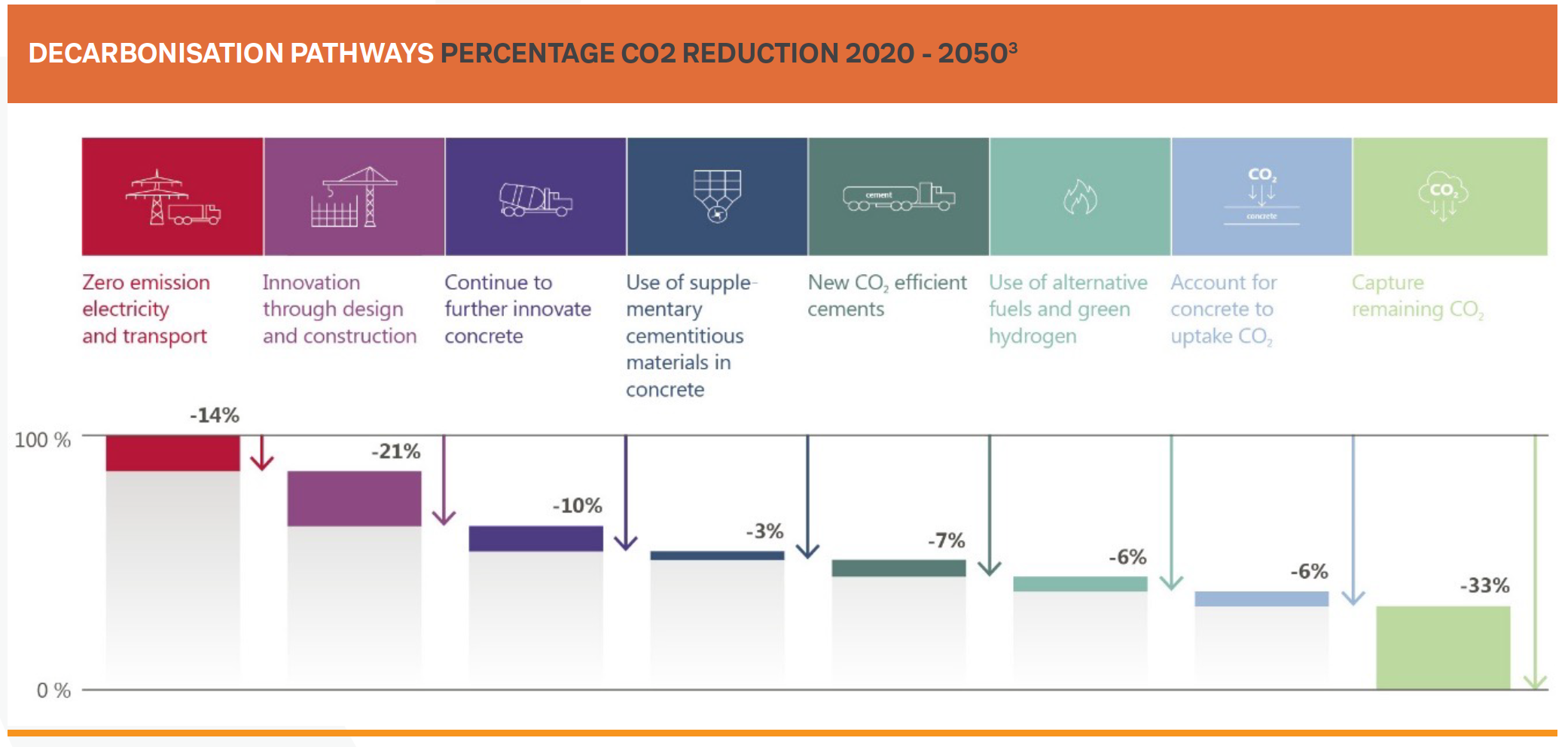 - Credit: SmartCrete CRC.
The ASA would like to thank the team at SmartCrete CRC for providing us with this information. To read more, click here