New Steel Slag: Solution for UK's Unused Materials
A newly enhanced steel slag solution is being developed in a strategic move to utilise the 62 million tonnes of steel slag going to landfill each year in the UK.
The concrete alternative will be developed in a significant $13.3m project called Mevocrete through a collaboration with academics from Teesside University and industry partners.
The project aims to create the solution from the by-products of the steel and chemical industries, resulting in a product that emits up to 85% less carbon dioxide when compared with Portland Cement. The project will focus on examining the entire supply-chain from the feedstock to end user.
Researchers from Teesside University will analyse the steel slag and its chemical composition, whilst measuring how efficient it is at sequestering carbon. The steel slag solution is patented by UK-based company Material Evolution Ltd.
Teesside University won funding from Innovate UK to collaborate with Material Evolution to aid in scaling up its technology to create a full scale on-site facility for cement production utilising steel slag waste at Teesworks.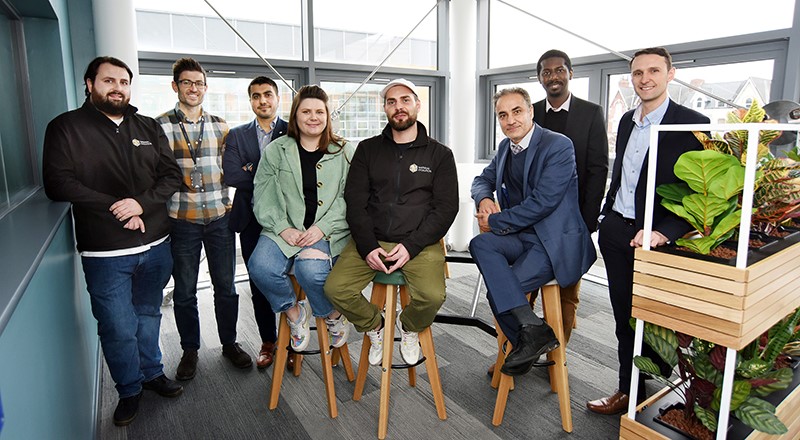 Credit: Teesside University - The Mevocrete project team: From left to right - Sam Clark, Co-Founder, Material Evolution; James Bramley, Project Manager, Material Evolution; Dr Kamal Elyasi, Research Associate, Teesside University; Dr Elizabeth Gilligan, Founder and CEO at Material Evolution; Kieran Gilligan, Co-Founder, Material Evolution; Dr Sina Rezaei Gomari , Mevocrete project principal investigator (PI); Dr Tariq Ahmed, Lecturer in Chemical Engineering and Mevocrete project Co-Investigator; Professor David Hughes, Associate Dean (Research and Innovation) and Mevocrete project Co-Investigator.
Concrete is one of the biggest single emitters of carbon dioxide, equating to 8% of global greenhouse gas emissions. Therefore, it is vital that new ways to decarbonise the construction and steel industry are found and utilised in a substantial way.
Associate Dean (Research and Innovation) Professor and co-lead of the Mevocrete project, David Hughes emphasised his gratitude in the collaboration explaining, "We are delighted to be able to help Material Evolution create a circular approach to dealing with the historic waste material from the region's steel production while simultaneously reducing the carbon footprint of the construction industry," he said.
Founder and CEO of Material Evolution, Dr Elizabeth Gilligan communicated the end results of the project explaining that they "will have a dedicated Mevocrete production line, delivering a truly carbon negative cement, which importantly, will have been independently tested and verified".
She went on to say that, "by utilising our ultra-low energy alkali-fusion technology, and using hyper-local waste streams, we can eliminate the need for Ordinary Portland Cement in concrete products. The industry has to have innovations like this if we are to meet our need to rapidly and radically decarbonise".
For more information on the sustainable alternative, click here.