Canadian Cement Producers Pen Carbon Roadmap Companion
The Cement Association of Canada (CAC) along with member producers and downstream partners has released Concrete Zero, an action plan for carbon emissions reduction measures up and down the industry's value chain. The document will build on formal CO2 benchmarks that CAC and Innovation, Science and Economic Development Canada officials outlined last Autumn in a ultimate goal to reach net zero by 2050, cement and concrete producers detail the following 5 priority areas in the new action plan: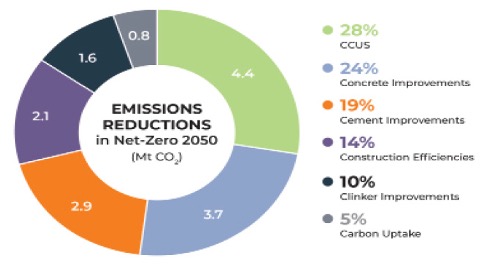 1.Fuel Mix: By eliminating the use of coal and petroleum coke as fuel sources for clinker production, while increasing the use of lower-carbon and alternative fuels, including engineered biomass and green hydrogen will help drive down emissions.
2. Clinker Factor: reducing the volume of. Linker used to produce cement, which achieve CO2 emissions reduction of 1.5 million metric tonnes over the course of a decade. After 2030, the use of innovative materials, natural pozzolans, and beneficiated waste and recovered materials will increase.
3. SCM usage: Increasing the use of supplementary cementitious materials in the form of fly ash and ground granulated blast-furnace slag will also play an important role, as will introducing ground limestone, recycled concrete fines, calcined clays, and other new promising materials in finished binders for concrete and mortar.
4. CCUS: Working toward building carbon capture and utilization or storage capacity. Part of that effort will be to build by 2030 North America's first commercial deployment of a full-scale carbon capture and storage at a cement plant. (CAC member Heidelberg Materials North America, along with Canadian government officials, recently outlined such a project for the producer's Edmonton mill.)
5. Enabling Measures: Advocating for performance-based codes, standards and specifications, procurement policies, and increased material efficiency in construction.
CAC President and CEO Adam Auer stated that "Our net-zero action plan is ambitious and cannot be achieved by industry action alone. Working with government, industry, and partners in the design, architecture, and construction industry will be essential for success, and that Canada's cement and concrete industry are committed to doing our part to help build a better, cleaner future. Working together, we can deliver concrete zero."